Info Sehati
Know the Types of Blood Cancer and Treatment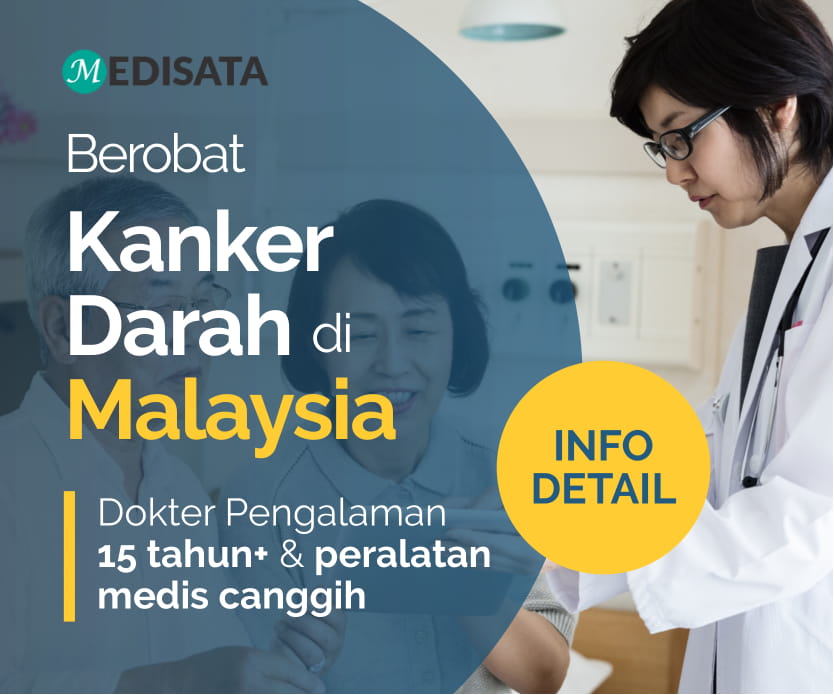 Blood cancer is cancer that affects the blood cells in the bone marrow (usually white blood cells). This condition has three types with different symptoms. Check out the full explanation of the symptoms and how to treat it below.
– Advertisement –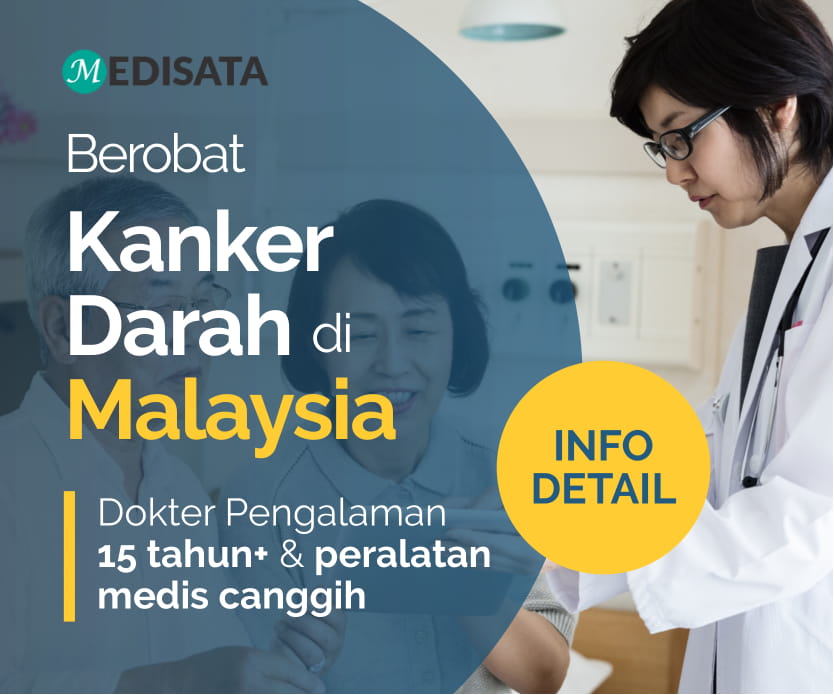 Recognizing the Types of Blood Cancer
Blood cancer consists of three types, namely leukemia, lymphoma, and myeloma. These three types have different symptoms and treatment.
The following is a complete explanation of the types of blood cancer, including:
1. Leukemia
Leukemia is cancer of the blood-forming tissues in the body, namely the bone marrow and lymphatic system. There are a number of types of leukemia, some forms of leukemia are more common in children. While other types mostly occur in adults.
Leukemia occurs when the body produces too many abnormal white blood cells and interferes with the bone marrow's ability to make red blood cells and platelets.
Symptom
Symptoms of blood cancer in children and adults vary depending on the type. Common signs include:
Constant fatigue.

Fever.

Unexplained weight loss.

Easy bleeding or bruising.

Recurrent nosebleeds.

Swollen lymph nodes, enlarged liver or spleen.

Small red spots on the skin (

petechiae

).

Excessive sweating, usually at night.

Bone pain
Treatment
Treatment of this disease can be complex, depending on the type and other factors. But there are ways that can help make the treatment work.
The following treatments are often used for leukemia, including:
Chemotherapy

. The main treatment uses drugs to kill leukemia cells. Drug administration depends on the type of leukemia suffered, the patient may be given one drug or a combination. This drug is in pill form, or injected into a vein.

Target therapy

. This targeted therapy uses drugs that specifically work to attack cancer cells. These treatments can help control leukemia symptoms.

Biological therapy

. Therapy that can help the immune system detect and fight leukemia cells.

Radiation therapy

. This therapy uses X-rays or high-energy rays to damage leukemia cells and stop them from growing. Leukemia sufferers are required to lie down on a radiotherapy device or machine, directing the radiation beam to the right points on the body.

Stem cell transplant

. This is a procedure to replace diseased bone marrow with healthy bone marrow. However, before doing high-dose chemotherapy or radiation therapy to destroy the abnormal bone marrow. Then given an infusion of blood-forming stem cells that help rebuild the bone marrow.
2. Lymphoma
This type of blood cancer is cancer of the lymphatic system which is a tissue to fight germs in the body. The lymphatic system includes lymph nodes, thymus gland, spleen and bone marrow.
Lymphoma can affect all of these areas and other organs throughout the body, which makes it more difficult to fight infection.
There are many types of lymphoma, but the main subtypes include Hodgkin lymphoma and non-Hodgkin lymphoma.
Symptom
Symptoms of this type of blood cancer are usually marked by swollen lymph nodes. Symptoms may appear lumps in several parts of the body.
While the lymph nodes in the body can press on the organs and cause coughing, shortness of breath, or pain in the chest, stomach, or bones. It's likely that the spleen also gets bigger, which makes you feel full or bloated.
Other lymphoma symptoms include:
Swollen lymph nodes in the neck (without pain), armpits, or groin.

Fever.

Constant fatigue.

Night sweats

Itching on the skin.

Unexplained weight loss.
Treatment
The best treatment depends on the type of lymphoma you have, the stage of the cancer, and your overall health.
Treatment may include chemotherapy, immunotherapy drugs, radiation therapy, bone marrow transplant or a combination of these. The goal of this treatment is to destroy cancer cells and reduce the severity of symptoms.
Also Read: Blood Cancer: Symptoms, Causes, Diagnosis, and Treatment
3. Multiple Myeloma
This type of blood cancer is formed from white blood cells called plasma cells. Plasma cells are able to help fight infection by making antibodies that detect and attack germs.
Multiple myeloma This causes cancer cells to accumulate in the bone marrow. Instead of producing antibodies, cancer cells make abnormal proteins that can cause complications.
Symptom
Signs of multiple myeloma can vary, at the beginning of this disease may not cause symptoms. A number of blood cancer symptoms in adults and children that may appear, include:
Bone pain (especially in the spine or chest).

Fatigue.

Weakness or numbness in the legs.

Frequent infections.

Nauseous.

Constipation.

Loss of appetite.

Weight loss.

Confusion.

Excessive thirst.
Treatment
Treatment can help relieve pain, control complications of the disease, stabilize the condition and slow the progression of the condition.
If experiencing multiple myeloma but do not feel any symptoms, may not need treatment. However, the doctor will regularly monitor the condition, namely by conducting regular blood and urine tests.
Meanwhile, if you experience symptoms or multiple myeloma show signs of its development, the doctor may suggest starting treatment for symptoms of early-stage blood cancer.
Treatment for this condition may be much the same as treatment for the above types of blood cancer, including targeted therapy, biologic therapy, chemotherapy, bone marrow transplant, and radiation therapy.
Other treatments may use corticosteroids such as prednisone And dexamethasone to regulate the immune system which controls inflammation in the body. This drug is also active against myeloma cells. Corticosteroids can be taken in pill form or by injection in the arm.
Also Read: Get to know Immunotherapy, Methods for Treating Various Types of Cancer
Complementary Therapies for Blood Cancer
Complementary therapy is treatment that is done alongside standard medical care that can make blood cancer patients feel better. This therapy is in the form of massage, meditation, or acupuncture.
However, there is no evidence that this therapy can treat or cure blood cancer.
However, some of these therapies can help manage symptoms or side effects from current treatments. This therapy will probably just help you feel relaxed or calming.
Alternative Therapy
There is a difference between complementary therapies and those used in conjunction with standard medical treatments (chemotherapy and radiotherapy) and alternative therapies, which are recommended instead of treatment.
However, it is not recommended to use alternative therapies as a substitute for medical treatment. Therapy may only be used to complement treatment.
If you plan to use complementary therapies, you should consult with your doctor about which therapies are safe for you. Your doctor may suggest avoiding certain therapies because of the risks associated with your current condition or treatment.
Now, that's a complete explanation of the various types of blood cancer along with its symptoms and treatment. Hopefully this information is useful, Healthy Friends.
DoctorHealthy | © 2023 PT Media Kesehatan Indonesia. Copyright Protected